Ranked as the number one online MBA program, the Kelley Direct Online MBA program is unique because of the hybrid model offered to its students. As part of an intensive introduction to the program, students travel to the Kelley School of Business on Indiana University's Bloomington campus to participate in several in-person events, including a blitz strategy competition.
During the Kelley on Campus Strategy Blitz, students are confronted with a real-world problem from a partner company or organization. They work as a team to formulate solutions and present cases in a competitive format.
"Students value this experience because it allows them to learn and apply concepts in a real-world setting where they can have an impact," said Regan Stevenson, assistant professor of entrepreneurship at the Kelley School of Business and the one of the blitz faculty coordinators. "Clients love the program because they get a fresh look at their most important strategic challenges."
"It's a problem-solving process condensed into an intense and engaging instructional design," said Tim Baldwin, Randall L. Tobias Professor of Leadership at the Kelley School of Business. "It's a really powerful way to bring people together in a short amount of time and equip them to make really good recommendations."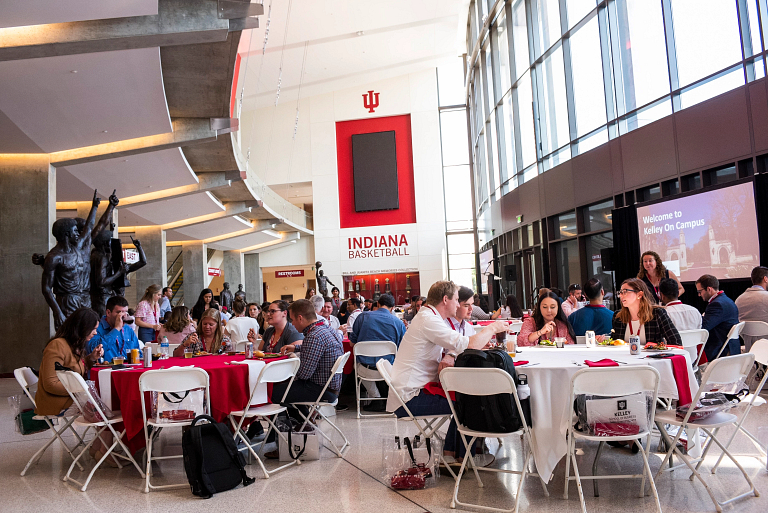 Eli Lilly, Marcus Theatres, Cummins and Post Cereal are among the former organizations that participated. This year, the students partnered with the Boys and Girls Clubs of Bloomington, a local chapter of the national non-profit organization.
Baldwin coached basketball at the Boys and Girls Clubs of Bloomington in the 1980s, and in 2020 he joined the board. He said that was when he witnessed the impact the club has on the community.
"I learned that they were providing catering and childcare services to the point that they felt an absolute necessity to stay open when the schools were closing in 2020," Baldwin said. "We serve about 400 to 500 children with a potential of about 600 or 700 in existing facilities. The need is probably three times greater in the community. We are looking to really change the trajectory of children's lives – trying to find more accessible career paths to lift these children out of the cycle of poverty."
Students were asked to build an initiative based on one of the four pillars of the Boys and Girls Clubs of Bloomington strategic plan: growth, programming, fundraising and safety. Teams met with club employees and board members to learn more about challenges the organization faces, such as member retention.
"One thing that everyone noticed was that there was a disengagement among club members aged 14 to 18," said Ashish Parbatani, a Lam Research scientist in his first year. as a Kelley Direct Online MBA student.
Parbatani's team focused on creating a strategy to increase teen buy-in.
"There are two great golf courses and country clubs around IU, and they don't do any caddy programs," Parbatani said. "Some of the (Boys and Girls Club) board members are actually powerful members of those clubs, so why not leverage those relationships and start some sort of caddy program to not only give the kids a good way to make money, but also expose them to these really good mentors?"
Parbatani said the strategic blitz experience was both educational and energizing. Already armed with a doctorate in nanoscience, he was attracted to the online MBA program because he is developing a new biomedical test device that he hopes to bring to market. He and many of his fellow students see the value in the networking opportunities and mentorship provided by Kelley.
"For me, it's the reputation and the mentors at Kelley," said Kiearrah Lawrence, a second-year MBA student who works in finance and accounting at AbbVie Inc., a Chicago-based biopharmaceutical company. "A few of my mentors are Kelley graduates and they have extremely solid reputations."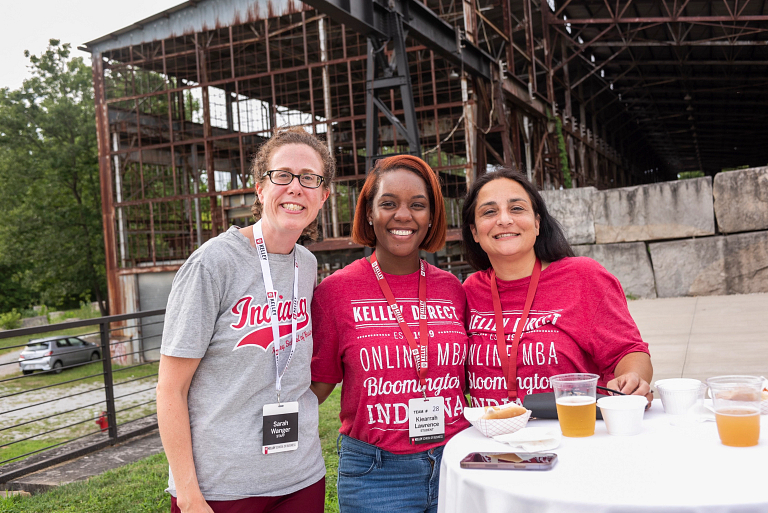 Lawrence said AbbVie hires many IU graduates and has always enjoyed working with them. She went to the Kelley on Campus event prepared for an intensive but rewarding experience. Many of the issues her team solved for Boys and Girls Clubs of Bloomington applied to other nonprofits she partners with at Abbvie.
"The case was fantastic," Lawrence said. "I have a soft spot for nonprofits through some of the work I do at Abbvie. I run our resource group for African-American employees called The Black Business Network."
Lawrence's team pitched the idea of ​​creating a Junior Board of Directors for Boys and Girls Clubs of Bloomington, so teens can take ownership and feel a sense of agency.
"Children in this age group would be paired with a board member as a mentor," Lawrence said. "Each junior board member would have a committee, and they are responsible for setting up their own programming or events."
In addition to simulating a realistic example of a collaborative strategy, the teamwork element of the blitz provided students with the opportunity to network.
"Students can network in person with online peers from across the country," Stevenson said. "Our students are amazing and come from all walks of life. For example, during the last strategic blitz, I interacted with a team consisting of a musician from Georgia, a rocket scientist from New England and a startup technologist from Silicon Valley, who were all taking their first business class together. Teaching in this program is so much fun because the students are eager to learn and have diverse perspectives that they bring to the classroom."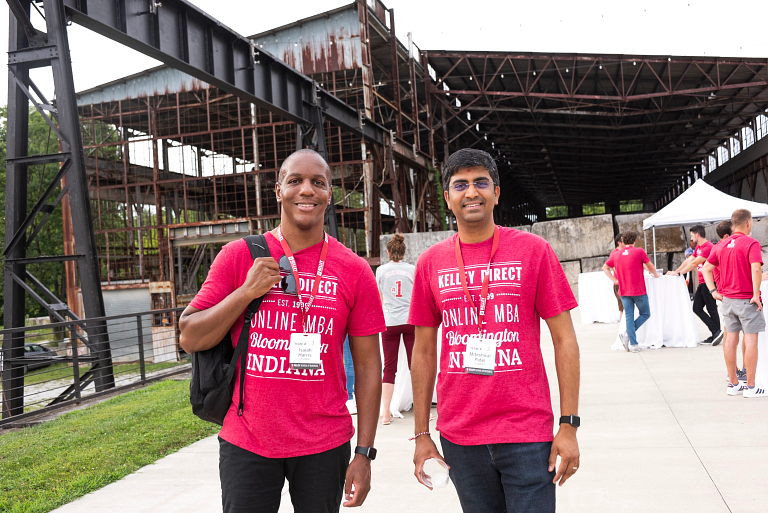 At the end of the strategic blitz, many students shared that they felt a boost of confidence and renewed energy, and the in-person element of the program was incredibly valuable.
"It was important to me to find a program that was online but also had an in-person component, and only a few programs really had that hybrid mix," said Isaiah Harris, a New Yorker who is earning his MBA while working. as a senior. Investor Relations Associate at Blue Meridian Partners, an impact investment organization funding scalable solutions to a variety of social issues.
"If I could use adjectives to describe the campus experience, they would be engaging, dynamic, helpful, and thoughtful, to name a few," Harris said. "Once it was time to get back to the real world in quotes and without quotes, I was already thinking of ways to apply what I had learned and leverage the connections I had made through networking."
Harris said the deal was difficult because it was a nonprofit, but he and his classmates appreciated the opportunity.
"Nonprofits have business issues, even though they're not a money-making business," Harris said. "They still have business operations and challenges like any for-profit organization. We had to figure out how to grow revenue without selling something, per se, or without having a big budget or staff capabilities than a larger large for-profit organization can have."
Harris' team decided to introduce a web-based platform called "Clubs Connect" to meet young people where they are – on social media and social apps. The platform would match them with online counselors to help them with career advice, homework and tutoring.
Baldwin said there were so many great ideas generated by students during Kelley on Campus that he wouldn't be surprised if ideas from multiple teams were implemented at Bloomington Boys and Girls Clubs.
"I think one of the biggest signs of success for the project would be to see the ideas generated by this program become best practices in the National Boys and Girls Clubs of America," Baldwin said. "Overall, it was a wonderful synthesis of bright and capable MBA students, drawn to a world-class business school, using their business lessons and acumen to generate new ideas for a non-profit organization. local profit. It was a win-win in every way."