Bryan Terrell Clark in Jack the Bear and Sydney James Harcourt in Jelly Roll Morton. Jeremy Daniel Photo.
The Chimney Man kicked off the musical with a chilling laugh and the conviction of a preacher. As the piano sang an eerie tune, it spoke of people torn from their homeland, their pain a story told in music. He summoned messengers – Louis Armstrong, Duke Ellington – then cut the wire with a catchy statement.
A third name – Jelly Roll Morton – sat on the tip of her tongue. The audience remembered every word.
Chimney Man (Julian Rozzell Jr.) is a character from Jelly's Last Jamwhose concert reading graced the main stage at Long Wharf Theater last Saturday and Sunday. Written in 1993 by George C. Wolfe and Susan Birkenhead with music from the life and work of Morton, the musical tells the story of Jelly Roll Morton (born as Ferdinand Joseph LaMothe), a late 19th and early 20th century piano prodigy who declared himself the father of jazz music. Dennis Whitehead Darling directed the show.
On the main stage at Long Wharf, the actors turned the reading of the concert into a performance appropriate for this moment in theater history, as it preparing to transition to homelessness Later this year. In particular, the story was made easily digestible through vibrant music and high-energy cabaret dancing.
The final work in the 222 Sargent Dr. building in Long Wharf will be a reading of Flying Bird Diarywritten by Melissa Tantaquidgeon Zobel and directed by Madeline Sayet., October 22 and 23 Tickets and more information available here.
"[It's] the story of this tragic hero who is musically this amazing, flamboyant and charming prodigy of a pianist and composer that audiences adore," Darling said in an interview with the Arts Paper last week. "But you get a glimpse of the failures of his life and his tragic flaw [which] in this case it is his pride [similar to] many heroes of Greek tragedy.
The musical traces Morton's journey from an old, wealthy Creole family from which he was disowned to a groundbreaking career in jazz. Nicknamed "Jelly Roll," Morton was a genius at creating complicated beats and counter melodies, Darling said. But in the musical as in his life, his arrogance towards other black American musicians became fatal flaws. Born in Louisiana, Morton was French Creole and often believed this made him superior to black Americans, many of whom shared a history of slavery and generational trauma.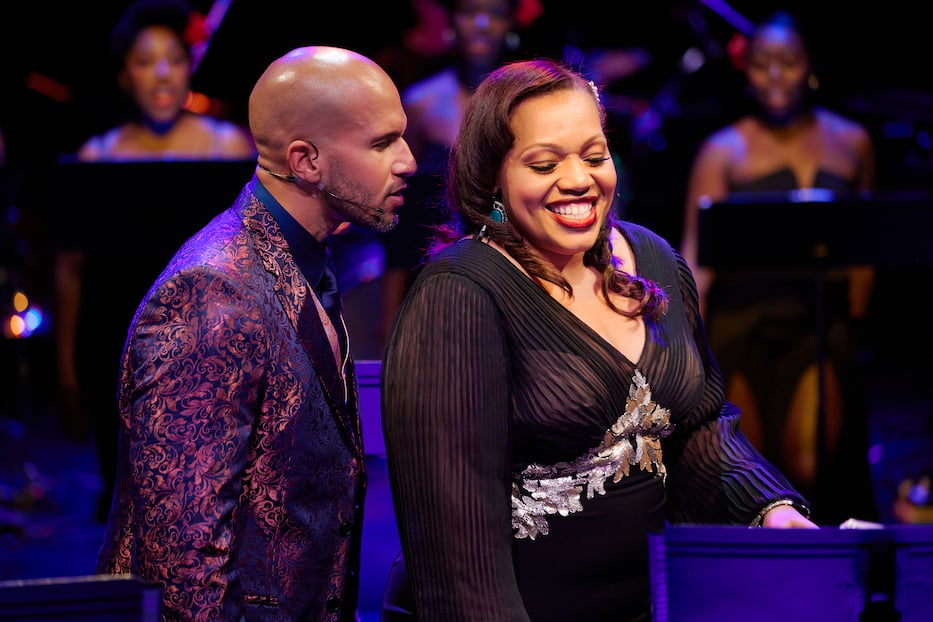 Sydney James Harcourt as Jelly Roll Morton and Carmen Ruby Floyd as Anita. Jeremy Daniel Photo.
While reading allowed for the use of scripts, actors had to memorize certain lines and songs, Darling said. This meant they could perform elaborate musical numbers without their books, then return to them once the song was finished. At one point early in the show, for example, cast members rushed onto the stage in a flurry of dancing and singing. In stark contrast to Chimney Man's chic black suit and top hat, Jelly Roll Morton (Sydney James Harcourt) stepped in confidently in a patterned suit and glittering silver shoes. Cleverly concealed behind music stands, even the books seemed to blend into the script.
It turned out that the concert reading matched the form. After his introduction to Morton, the musical places Morton in a state of purgatory, where the Chimney Man pushes him to relive his life. This guardian of the beyond does not allow him to ignore the painful moments: Morton must prove to the public that he can be redeemed. Or as the Chimney Man says, "tell your story and save your soul."
For a show that compels audiences to trust in Jelly Roll redemption, the concert playback format turned out to be the right move.
Darling brought cabaret tables, choreography and sound cues with a vision to deliver a performance that falls somewhere between a reading in its simplest form and a full theatrical production. Although the show was dressier than a seated read, it deservedly retained the intimacy of one. The decor was simple and consistent throughout the show, with a live orchestra tucked away in the back.
This allowed audience engagement to come naturally. In one scene, Morton acted like he was superior to Jack the Bear (Bryan Terrell Clark, who also played Buddy Bolden), a black man who was also ostensibly his friend. Instead of apologizing, he continued to assert that he was better off because of his Creole blood. When this cruelty continued when they next met, a shout of "hit him!" rose from the audience.
Similar moments were sprinkled throughout the show. When the vivacious Anita (Carmen Ruby Floyd) wowed with her vocals, she elicited cries from the audience of "sing it girl!" and "let him sing!" The simple decor of the show and the visible reading of the scenario allowed a particular intimacy. Audience members would frequently chime in, sometimes even finishing an actor's lines for them.
This element of audience engagement went hand in hand with the heart of the story. Elaborate professional screenings can often have the effect of feeling "stuffy" or strict, but this performance bridged the gap between audience and performers. Instead, reading the concert allowed audiences to exist on more equal grounds and, through it, come closer to seeing Morton as a human.
Jelly's Last Jam gives the public a chance to examine Morton on his day of reckoning. Just as the production wasn't perfectly polished, Morton was also a talented man with his own imperfections. At the heart of the reading, Harcourt was particularly adept at probing this divide.
"Although heroes have these wonderful qualities that lift them above the rest, they're still human and they all have their weaknesses and flaws," Darling said. "And what's important is acknowledging that and…finding redemption to then move on from those tragic flaws."
In the end, when faced with death, all Morton can do is follow Chimney Man's instructions to "get out". He comes to recognize the "black soil from which this rhythm was born" and feels remorse for his past arrogance. His accomplishments around white supremacy, racism, anti-blackness and ethnocentrism may come too late to save him, but they don't for the public. It's one of the resounding messages of the show, however intimate.
The Long Wharf Theater is also preparing for a step forward (although very close to the world of the living); the reading marked one of the last community looks at the Sargent Drive building that has been the theater's longtime home. As the company pivots to its transition out of theater, the temporary, alternate format feels like it's hosting a last house barbecue for the neighborhood.
The show ultimately served as a comfortable gathering, while paying homage to the city long and historic love affair with jazz. And it showed that the doors to Long Wharf, wherever they are next, will be wide open.
The next concert reading at the Long Wharf Theatre, 222 Sargent Dr., is Flying Bird Diary, written by Melissa Tantaquidgeon Zobel and directed by Madeline Sayet. Tickets and more information are available here.